Overview
Trainer-like stability. Sport-Pattern performance. Quick and easy to build. What's not to love?!
| | |
| --- | --- |
| | Trainer-like stability. Sport-Pattern performance. Quick and easy to build. What's not to love?! |
Designed as a first low-wing trainer over five decades ago the Lark is still a terrific, everyday sport plane. Our version of the Lark keeps all of the iconic looks and great flying characteristics of the original. Plus, because it combines docile flight characteristics, trainer-like stability and an aptitude for super-smooth, exciting aerobatics, the Lark is just what you need to step forward with your flying ability.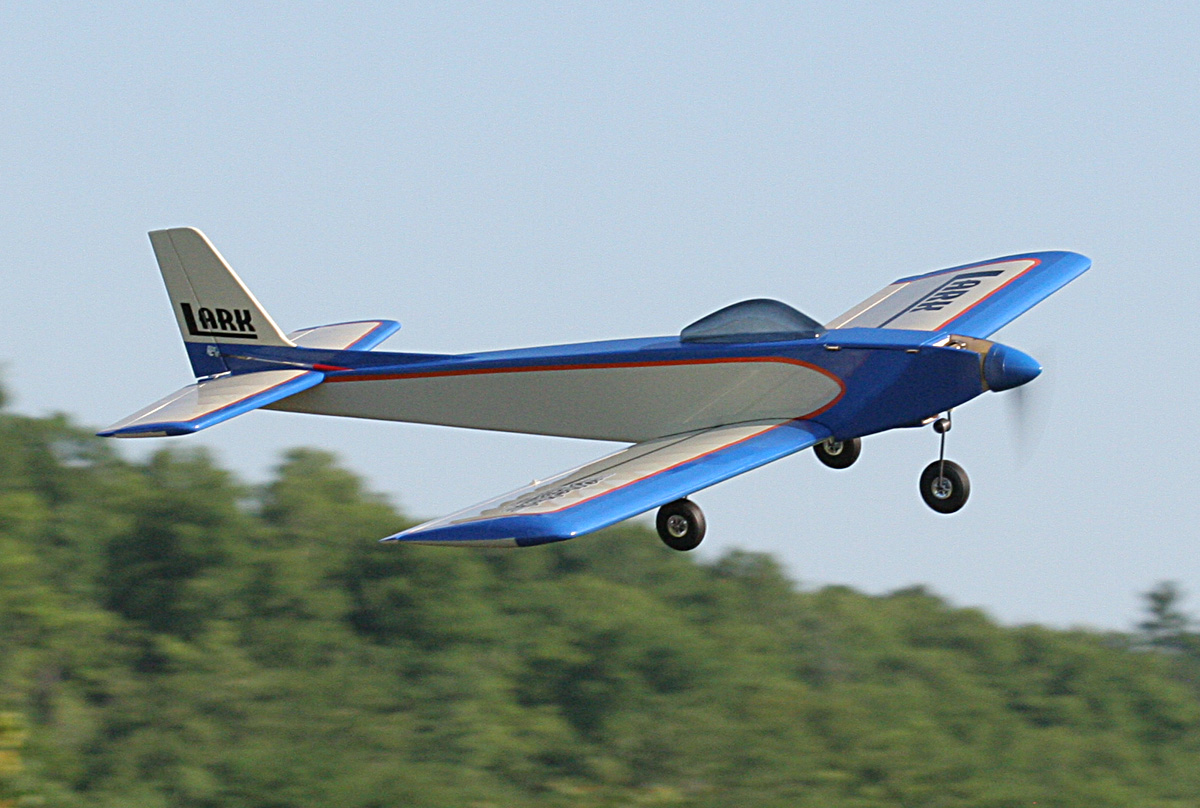 Our kit has been designed to keep building time to a minimum and introduces new, simplified building features as well as laser-cut precision and self-aligning parts to make this all-time favorite even better. Building the wing and stab are a snap as all of the ribs include tabs which allow you to quickly and precisely align them on your building board. Did we say stab ribs? Why yes we did, as we integrated the original airfoil shaped stab into our design as well.

The fuselage is built around a self-aligning, light-weight box for added strength. Surrounding this is the outer balsa skin that is strong, light-weight and twist resistant. Importantly, this balsa/ply airframe is uncomplicated, lightweight, easy to build, and features precision laser-cut parts that fit together quickly and accurately.
Power can come from glow or electric powerplants. We've designed the fuselage with a magnetic top hatch so you have quick access to either your fuel tank or batteries.
In the air, the Lark is an aerobatic, yet forgiving design that makes it the perfect entry-level low wing airplane. It's also great for experienced pilots because it packs a fully aerobatic capable design into a small package that can fit in the trunk of many cars, completely assembled.

When flying at slower speeds, it's a great way to relax, shoot touch-n-goes and enjoy low passes down the runway. But throttle it up and the Lark is just at home as an entry-level sport-pattern ship. Loop it. Roll it. Thrown in some Cuban 8's and even some hammerhead turns for fun and you'll enjoy every minute of it.
Our Old School Model Work's Lark is a Vintage R/C Society legal design for enjoying vintage fly-ins and contests.
 

Premium USA Hardware
Included in each Old School Model Works kit is a premium hardware package. We only source our hardware from brand-name, USA manufacturers to guarantee the best quality.

 

Interlocking Construction
There's nothing else like it. Our interlocking construction allows you to assemble the entire airframe with a minimum amount of fuss.

 

Front hatch
Securely held in place with magnets, this hatch gives you easy access to batteries or fuel.

 

Glow or Electric power
Power the Lark with either a glow or electric powerplant.

 

VRCS legal kit
Our Fifty Six is a Vintage R/C Society qualifying design making it eligible for vintage/retro events.

 

Design your color scheme
Download this sheet to design your Lark's color scheme.
Specifications:
Wingspan: 56 inches
Wing Area: 560 sq. inches
Length (airframe only): 42.5 inches
Weight: 3.75-4.5 pounds RTF
Radio: 4 channel
Power:
Glow (.25-.40 engine, 4-6 ounce tank, fuel tubing)
Electric (equivalent brushless motor, 550+ watt, 40+ amp ESC, 3-4S LiPo)
Additional items needed to complete the Lark kit:
Propeller
Engine/Motor mount & mounting hardware
"Y" servo harness (for ailerons)
Pushrods (two 5" for ailerons, two 26" for elevator & rudder, one 14" for nose gear, one 10" for throttle if glow powered)
Clevises for the pushrods (10 if electric, 12 if glow).
Wheels: one 2.25" nose, two 2.5" mains
Covering (typically 2 rolls)
Optional 2.25" or 2.5" Spinner
Recommended Power Systems
Cobra
C-2826/8 1130Kv Motor, C-60A-ESC, APC 10x5 or 10x6 Prop, 4S 3300mah LiPo Battery

APC 10x5 Prop = 14.8v, 48.48A, 718 watts, 12,829 RPM, 84oz Thrust, 61mph Speed
APC 10x6 Prop = 14.8v, 50.14A, 742 watts, 12,646 RPM, 89oz Thrust, 72mph Speed
Tempest
TEM-2826-920Kv Motor, TEM-60A-ESC, APC 10x6 or 10x7 Prop, 4S 3300mah LiPo Battery

APC 10x6 Prop = 14.8v, 37.9A, 560 watts, 11,673 RPM, 76oz Thrust, 66mph Speed
APC 10x7 Prop = 14.8v, 43.6A, 645 watts, 11,255, 78oz Thrust, 75mph Speed
BadAss
BA-2826-1030Kv Motor, BadAss Rebel V2 80A ESC, APC 10x5 10x6 10x7 or 10x8 Prop, 4S 3300mah LiPo Battery
APC 10x5 Prop = 14.8v, 45.04A, 667 watts, 13,008 RPM, 84oz Thrust, 62mph Speed
APC 10x6 Prop = 14.8v, 50.62A, 749 watts, 12,774, 88oz Thrust, 73mph Speed
APC 10x7 Prop = 14.8v, 58.36A, 864 watts, 12,413, 92oz Thrust, 82mph Speed
APC 10x8 Prop = 14.8v, 64.27A, 951 watts, 12,148, 92oz Thrust, 92mph Speed
Please Note:  All of the Old School Model Works Kits on our website have a $5 Oversize Package surcharge included in the price shown.  This will cover the additional shipping cost while still allowing you to choose our economical Flat Rate Shipping option.  This makes the delivered cost of the kit the same as ordering it directly Old School Model Works. 
We are sorry, but due to the size of the kits and high International shipping costs, we cannot ship them outside of the United States.