OSMW Minuette Airplane Kit
Overview
The Minuette is designed to mimic the look and feel of those wonderful Edwardian flying machines that were flown by those magnificent men.
There's just not enough Oh's in 

SMOOOOOOOOOOOOOOTH.
Beautiful, isn't she?
And like all great ladies, her graceful ways are evident the moment she takes to the skies.
The Minuette is designed to mimic the look and feel of those wonderful Edwardian flying machines that were flown by those magnificent men.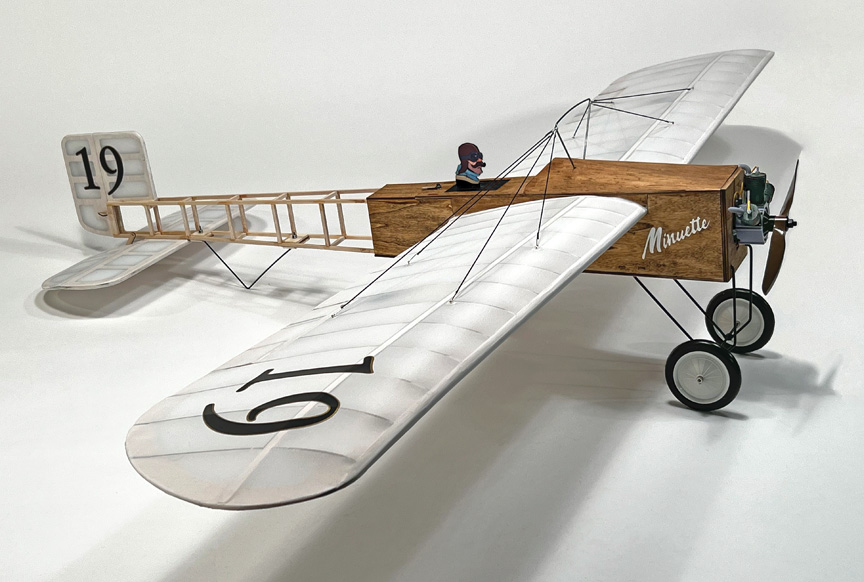 Building the wing is a snap as all of the ribs are laser-cut as part of our WEB-LOCK construction for proper alignment with minimum fuss.
If you want to go truly "old school", it can be built for simple 3-channel control (rudder, elevator and throttle). For even more control, the included ailerons can be made fully functional (4 channel control).
Although power can come from glow or electric powerplants, a simple 3s electric setup is really what the Minuette is designed around. We've created the fuselage with a huge top hatch so you have quick access batteries, radio, and it also hides the wing-bolts.
In the air, the Minuette is a simple, easy-to-fly cruising aircraft. Takeoffs are in just a few feet, even from grass runways. Once airborne, relax and gently glide her through the air through a series of low-passes, gentle turns, and even horizontal figure eights. With a 3200mAh battery, you can easily achieve 10+ minute flights with plenty of battery left for some touch-and-go's before landing.
The Minuette can even handle a bit of light wind without too much problem, and she is at her best taking off and landing into those gentle winds, if possible.
Please note that the Minuette is not designed (or stressed) for aerobatics. Also the removable flying wires in the Accessory Kit are decorative, and not needed to fly - just to look great.
Wingspan: 67.5 inches
Wing Area: 630 sq. inches
Length (airframe only): 38 inches
Weight: 3.5-4 pounds RTF
Radio: 3 or 4 channel (Sub-Micro servos)
Power:
Glow (.15-.25 glow)
Electric (250+ watt, 40A+ ESC, 3S 3200mah LiPo)
Additional items needed to complete the Minuette:
Propeller
Engine/Motor mount & mounting hardware
Radio system with 3 or 4 servos (we used Sub-Micro servos in our prototypes)
"Y" servo harness (for ailerons)
Pushrods (we recommend pull-pull for elevator and rudder, 6" pushrods for the ailerons)
Clevises for the pushrods.
Wheels: two 3.5" vintage look tires
Covering (typically one 2-meter roll will work)
Optional Accessory Kit for a more "scale-like" look
 

Premium USA Hardware
Included in each Old School Model Works kit is a premium hardware package. We only source our hardware from brand-name, USA manufacturers to guarantee the best quality.

 

3 or 4 channels
To aileron, or not to aileron? Whatever your answer is, parts are included to build the wing either way.

WEB-LOCK Construction
There's nothing else like it. Build our wings, straight and true - with a minimum amount of fuss.

Front hatch
Held in with your choice of screws or magnets, this gives you easy access to batteries or fuel.

Design your color scheme
Download this sheet to design your Robinhood 25's color scheme.

Want to see more?
Clickthe "My Build" button to bring up a Flickr photo album of our customer's Robinhood25 builds.
Although this optional accessory kit is not necessary for the Minuette to fly, it does add a bit of "scale-realism". The flying wires and pylons are removable for easy transport of the wing and fuselage. It includes:
Ready-to assemble 3d printed dummy motor (based on the Anzani "W" 3-cylinder). It is designed and printed by Innov8tive Designs, and meant to slip over your electric motor, mounting to the firewall. Click here for more details on this motor kit.
Pre-bent upper and lower flying-wire pylons.
Anchors, removable flying wires, hooks, and shrink-tubing.
Not shown:
Laser-cut profile pilot.
4-color, peel-and-stick sticker sheet (pilot and instrument panel only).
Instruction sheet.
CLICK HERE or the image below for the optional accessory kit
Dummy Engine
CLICK HERE or the image above if you would like to purchase just the 3D Printed motor mount by itself.
Recommended Power Systems
Cobra
C-2814/16 1050Kv Motor, C-33A-ESC, APC 10x7E Prop on 3S 3300mah LiPo Battery
APC 10x7E Prop = 11.1v, 24.75.A, 274 watts, 8,710 RPM, 47oz Thrust, 58mph Speed
Tempest
   

Tem-2814-1050Kv Motor, TEM-ESC-40A-6S ESC, APC 10x6E on 3S 3300mah LiPo Battery
APC 10x6 Prop = 11.1v, 27.1A, 301 watts, 10,013 RPM, 50oz Thrust, 48mph Speed
BadAss
BA-2814-1120Kv Motor, BadAss Rebel V2 40A ESC, APC 10x6E Prop on 3S 3300mah LiPo Battery
APC 10x6E Prop = 11.1v, 33.93.A, 377 watts, 10,309 RPM, 59oz Thrust, 59mph Speed
Please Note:  All of the Old School Model Works Kits on our website have a $5 Oversize Package surcharge included in the price shown.  This will cover the additional shipping cost while still allowing you to choose our economical Flat Rate Shipping option.  This makes the delivered cost of the kit the same as ordering it directly Old School Model Works. 
We are sorry, but due to the size of the kits and high International shipping costs, we cannot ship them outside of the United States.